At Timelesswines.com, your privacy and the protection of your data is our primary concern.
Information Collection and Use
Timelesswines.com is the sole owner of the information collected on this site. We will not sell, share, or rent this information to others in any way that varies from what is disclosed in this statement. Timelesswines.com collects information from our users at several different areas on our site.
You may receive information regarding new features, services and special offers we think you'll find valuable. If you'd like to opt out of future mailings from Timelesswines.com, LLC., follow the procedure outlined in the Choice/Opt-out section below.
Registration
No registration is required in order to use this website, though a user must create an account prior to completing any purchase. Users are required to provide their name, date of birth, email address, zip code, and a password of 5-16 characters in length. This information is necessary in order for us to contact users about services on our site for which they have expressed interest. It is optional for the user to provide a phone number, but we encourage you to do so in order to have an alternate means of contact regarding an order.
Ordering
Timelesswines.com order forms request data from users including: Contact information such as name and shipping address; financial information such as credit card number, expiration date, billing address, and billing phone number. This information is used for billing purposes to verify that the customer is of legal age, and to fill customers' orders. If we encounter difficulty when processing an order, this contact information is used to contact the user. This information is harvested from a secure area and encrypted for our customers' protection. It is not sold or shared with anyone else under any circumstances.
Cookies
A cookie is data stored on the end-user's hard drive with information that relates directly to the end-user's visit to our web site. Any information placed in the cookie is accessible only to Timelesswines.com, and will not be sold or shared with anyone else under any circumstances. We use a cookie to store a unique session identifier, which allows us to maintain shopping cart and state selections from one page request to the next, and maintain session information from one visit to the next. By setting a cookie on our site, the user would not have to log in more than once, thereby saving time while visiting our site. If a user rejects the cookie, they may still browse our site. However, the user experience will be greatly curtailed. In addition, the user will be unable to log in or make a purchase. Cookies also enable us to track and target the interests of our users to enhance users' experience and display products that relate directly to individual user preferences.
Emails
If a user wishes to subscribe to our emails we ask for contact information such as name and email address. If at any time you should wish to unsubscribe, please send an email to our Customer Care group with your request and the account name you used to create your account. You may reach us at: timeless@timelesswines.com
Security
If you have any questions about the security at our website, you can send an email to: timeless@timelesswines.com.
Correcting and Updating Personal Info
You can add new information and update credit cards on the Order Summary page of our site. You can modify your login information and opt out of newsletter delivery on the "My Account" link at the bottom of each page of our site.
Sale of Our Company
As a natural consequence of the development of our company, we could be sold to another company. In the event that another company acquires us or a significant portion of our assets is sold to another company, all customer data including financial records and consumer information collected on TimelessWines.com may be transferred to the new company. You will be notified via of any such change in ownership or control of your personal information.
We reserve the right to modify this privacy statement at any time, so please review it frequently. If we make material changes to this policy, we will notify you by email.
The Privacy Notice posted on this site was updated on June 19, 2011.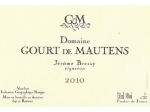 Blend: 70% Grenache Noir and 30% various: Carignan, Mourvèdre, Syrah, Counoise, Cinsault, Vaccarèse and Terret Noir
Vinification: after the harvest, the grapes are carried in 20 kg cases; selection of every single cluster using a sorting table; Destemming.; Slow extraction in a 10-20 day maceration; All the grapes are blended together to produce a single wine, a single Cuvée.
Yield: 14 Hl/hectare
No addition of yeasts or tartar; No fining, no filtration.
Ageing: 12 months in demi-muids (300 liter barrels) and foudre (large barrels); then 18 months in concrete vats. A single bottling, at one time.
It is loaded with chocolate, black raspberries, and kirsch, intermixed with dusty, loamy soil notes, pepper, and the telltale chocolate that comes from the old vine Grenache that bakes in the sun in this high elevation appellation. This is a beauty, slightly rustic but enormously endowed.
---
Review:
Deeper and richer than the '11, the 2010 IGP Vaucluse knocks it out of the park with tons of black cherry, raspberry, ground pepper, violets and hints of smoke. Full-bodied, fat, fleshy and unctuously textured, this is a beast of a wine that stays balanced and thrillingly drinkable. Give it another year or three and drink bottles through 2030.-Wine Advocate 95 Points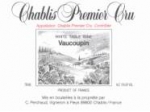 Corrine Perchaud Chablis Premier Cru Vaucoupin 2013 is 100 percent Chardonnay.
The 2011 vintage wines are expressive and vivacious. It is very aromatic and round giving very balanced wines.
A rich and generous wine with a lovely mineral structure.
Best thru 2021.
The vineyard The plots are on the Vaucoupin Chichée village. They are very steep and facing south, their average age is 40 years. The total area is 1.45 hectares. The vines are planted on soil Kimmeridgian marl consisting clay and limestone with dominant clay. Winemaking After a slight settling, the juice is put in to achieve its fermentation tank alcoholic and malolactic. It follows a long aging on lees to bring a maximum of complexity of aromas and flavors. If necessary, we make a collage to bentonite to remove proteins and a passing cold which eliminates tartar crystals. Then we perform a tangential filtration is the filtration method most friendly to wine. The wine will be bottles 16 months after harvest. 2011 Vintage The relatively high temperatures at the end of winter allowed an early bud vines in early March. With a hot, dry spring flower took place in good conditions. In July, a hailstorm located did some damage to our Fourchaume plot. July and early August, rainy and stormy brought the water needed for the vineyards. The dry and sunny weather of the second half of August brought the grapes to maturity. The harvest began on September 2 under clement skies.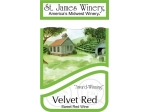 St. James Winery Velvet Red - NV is made from 100% Concord grapes from Ozark Highlands AVA.
10.5% Alcohol by Volume
12.1% Residual Sugar
Tastes and smells like ripe, just picked grapes.
Velvet Red is fruity and mouth-filling and best served chilled.

Select Wine Competition Awards:
2011 GOLD Wine & Spirits Wholesalers of America
2011 SILVER San Francisco Chronicle
2011 SILVER Pacific Rim
2011 SILVER Finger Lakes International
2011 SILVER Grand Harvest
2011 SILVER Los Angeles International
2011 SILVER Critics Challenge
2011 BRONZE Florida State Fair International
2011 BRONZE New World International
2011 BRONZE Dallas Morning News