FREE SHIPPING IN LOWER 48 STATES ONLY.
Timeless Wines offers a free storage service to all of our customers to keep your wine safe during months of extreme cold or heat. Your wine will be stored securely in our climate controlled facility until your chosen ship date or until we have monitored the weather along your transit path and determined it is safe to ship. There is no limit to this service, so feel free to order as much as you like with the peace of mind that your wine will be safe and arrive to you without the effects of the summer heat or winter cold. This is an excellent way to take advantage of all our daily deals before they sell out!
All items ship from our warehouse in Winchester, VA. You can pick your own ship date, also showing estimated delivery date, during the checkout process. During the summer and winter months we may advise customers against their selected ship date and suggest our free summer and winter storage service.
States we ship to
States where we do ship wine

States where we do not ship wine

States with zip code restrictions of wine shipments

Alabama

Arizona
California
Colorado
Connecticut

Delaware

Florida
Georgia
Hawaii
idaho
Indiana
Iowa
Kansas
Louisiana
Maine

Maryland
Michigan
Minnesota
Missouri

Montana

Nebraska
Nevada

New Jersey
New Hampshire
New Mexico
New York
North Carolina
North Dakota
Ohio
Oregon
Pennsylvania

Rhode Island
South Carolina
Tennessee
Vermont
Virginia
Washington
Washington D.C.
West Virginia
Wisconsin
Wyoming


Arkansas
Kentucky
Mississippi
Oklahoma
South Dakota
Texas
Utah

Alaska
Shipping Methods & Costs
Shipping costs for orders from Timeless Wines depend upon the method and by the weight of the package. Standard deliveries are handled by UPS based on state availability. All wine shipments require a signature for receipt.Signatures can only be obtained by someone who is at least 21 years old. Delivery driver is required to ask for ID to verify age.If an item in your order is not available for immediate shipment, we will notify you. We cannot ship wine to PO Boxes or APO/FPO addresses. Timeless Wines does not ship on weekends and major holidays.Depending upon weather conditions Timeless Wines may delay the shipment to ensure product quality. However, most orders are shipped within 24 hours.During the summer and winter customers may take advantage of our free storage service.
1.IF CUSTOMER ELECTS FOR TIMELESS WINES TO SELECT THE BEST SHIP DATE AND THEN DECIDES TO CANCEL ORDER, A FEE OF UP TO 20 PERCENT WILL BE HELD BACK. THIS FEE IS TO COVER TIME AND EXPENSE OF PACKING AND PLACING WINE IN THE CLIMATE STORAGE WAREHOUSE AND REMOVING FROM SAID WAREHOUSE ON CANCELLATION.
2.TIMELESS WINES WILL SHIP A FREE SHIPPING ORDER ONE TIME, IF CUSTOMER IS NOT ABLE TO ACCEPT DELIVERY TIMELESS WINES WILL CHARGE TO RESHIP ORDER. IF CUSTOMER DECIDES TO CANCEL ORDER TIMELESS WINES WILL REFUND THE ORDER MINUS THE SHIPPING COST THAT TIMELESS WINES INCURRED.
3.ANY CHANGES TO SHIPMENT AFTER UPS HAS PICKED UP THE PACKAGE WILL REQUIRE A FEE OF 12.00. THIS FEE IS CHARGED BY UPS NOT BY TIMELESS WINES.
Tracking your order
To track your order, sign in to the My Account page and check the status of your delivery by clicking directly on the tracking number or the UPS symbol. Please note that it may take 24 hours before tracking information appears on the carriers site. If you think your order is late, please note that: Credit card authorization and verification must be received prior to processing. Delivery occurs Monday through Friday, excluding holidays. If you have any questions about your order, please contact us at:timeless@timelesswines.com
Bottle limits & availability

In some instances state law regulates product availability and/or wine purchase limitations. Working within state and local laws may prevent our ability to fulfill order requests.

Out of stock items

There are times when products may be out of stock. In that case, a salesperson will contact you. If you decide not to make a substitution, we will ship available items minus the out of stock item(s) or cancel the order.

Credit card refunds

Timelesswines.com processes refunds to the credit card used at time of purchase upon receiving your returned shipment. Please allow 10 to 15 days for the refund credit to appear on your statement. We can also offer store credit.

Returns policy

Timelesswines.com guarantees the quality of all our products and services. Your satisfaction is our first priority. Cancelled and/or returned orders are subject to a 25% restocking fee. Following the wine trade tradition, all bottles ten years or older are purchased at the buyers risk. No orders over 30 days may be canceled, this also applies to orders not yet shipped.
Tax
Timeless Wines collects tax for the state of Virginia. In any other state it is the buyer's responsibility to report any taxes due to their state.
Timelesswines.com guarantee

Timelesswines.com guarantees quality products and service. Order processing time is contingent upon credit card authorization screening, and does not include weekends or holidays.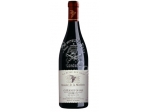 Mordoree Chateauneuf-du-Pape La Reine des Bois 2012 is made from 80% Grenache, 10% Mourvèdre, 5% Syrah, 2.5% Vaccarese, 2.5% Counoise.
60 year-old vines
Aged in 50% oak barrels.
Deep ruby red color, red fruits aromas leading to leather, black truffles and coffee notes. Fat and concentrated on the palate, with liquorice and dark fruit flavors.
Pairs well with game and red meats, cheeses.
---
Reviews:
"One of the blockbusters in the vintage, the inky-colored 2012 Châteauneuf du Pape La Reine des Bois – 80% Grenache, completely destemmed and aged 12 months in 80% stainless steel and 20% old barrels – offers fantastic richness and depth in its blackberry liqueur, graphite, wood smoke and crushed-rock-like aromas and flavors. An elegant, stylish and polished example of this cuvée, it comes closest in my mind to a lighter-weight 2010. Medium to full-bodied, concentrated and with fine tannin, it will drink well for 10-15 years. - Jeb Dunnuck"
- Robert Parker's The Wine Advocate (Issue 215, October 2014), 95 pts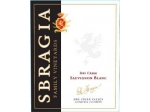 "The Dry Creek Valley Sauvignon Blanc is the first wine we harvest and bottle and thus marks the exciting beginning of another vintage for our family here at the winery. Its refreshing profile has made it a favorite around the country which we're thrilled about. The 2013 has citrus and tropical aromas that are accented by bright flavors of green apple, grapefruit and lemongrass, and a lovely minerality that carries into a refreshing finish."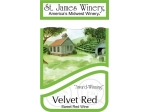 St. James Winery Velvet Red - NV is made from 100% Concord grapes from Ozark Highlands AVA.
10.5% Alcohol by Volume
12.1% Residual Sugar
Tastes and smells like ripe, just picked grapes.
Velvet Red is fruity and mouth-filling and best served chilled.

Select Wine Competition Awards:
2011 GOLD Wine & Spirits Wholesalers of America
2011 SILVER San Francisco Chronicle
2011 SILVER Pacific Rim
2011 SILVER Finger Lakes International
2011 SILVER Grand Harvest
2011 SILVER Los Angeles International
2011 SILVER Critics Challenge
2011 BRONZE Florida State Fair International
2011 BRONZE New World International
2011 BRONZE Dallas Morning News