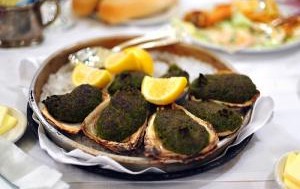 Gallatoire's, New Orleans
For me, this was the highlight of my New Orleans trip. It's a refined exuberance when the rest of the city blathers their happiness about in beads. Nothing wrong with either, but I give credit to those that strive to show polished restraint in a city of pure unadulterated partying.
Jackets are required for gentlemen and one will be provided for you if you didn't happen to bring one. I witnessed this on my trip and it wasn't the stuffy, "no you can't sit down here in that" kind of place. It was a "Here, this will look wonderful with your strong shoulders and what a perfect color to match your shirt" style of treatment.  A Harley couple dressed in head to toe leather walked in and within a few minutes, the gentleman was beaming with satisfaction in his well fit jacket. It was a flawless addition and well executed by the staff.
A beautiful entryway foyer opens up to the main dining room. It was large and long, and absolutely filled with hearty and happy groups. This wasn't a place where you had to keep your voice down. People loved conversation and laughter and it was also encouraged by the staff. In fact, a trio of waiters even broke out into song at a table.  If you come here in a bad mood, you will be smiling by the time the water fills your water glass. The black and white tiled floors are sparkling clean and give a great ballroom feel to the room.
Our waiter was more than attentive and donned in a traditional tuxedo with a white cloth draped over his arm. We adored every morsel and there was nothing this restaurant did wrong in my opinion. Our waiter would suggest items as we asked and seemed quite pleased with our final decisions. That is always a good sign!
Duck Crepe- goat cheese, roasted duck, rosemary, and thyme rolled in to a fluffy crepe topped with port cherries and pistachios.
Sweetbreads- perfectly sautéed sweetbreads with capers in a lavish beurre blanc.
Lamb Chops-thick and juicy with a perfect pink of medium rare glowing in the dish. We are lamb lovers and for a restaurant known for their seafood, they really did some justice to the chop.
Pompano- light, fluffy, and buttery fish, deboned, but with the delicious skin topped with Meniere butter. I ordered mine with the Crabmeat Yvonne, which was a generous portion of jumbo lump crabmeat.
Spinach Rockefeller- A fun play on words of oysters Rockefeller, but no oysters. The spinach was whipped with scallions and breadcrumbs and seasoned to perfection inside the oyster shell. What a way to get your greens in. I loved it.
Lyonnaise Potatoes- served with sweet onions and perfectly seasoned.
Mocha Panna Cotta- Panna cotta has been the Bain of my dessert cooking for some time. It is Mike's favorite, so I always attempt it, but usually strike out.  I never get the texture quite right. Galatoire's was light and rich.
Black Bottom Pecan Pie- bourbon, chocolate and pecans in a thick and perfectly textured pie