New Customer
I am a new customer.
By creating an account at Timeless Wines you will be able to shop faster, be up to date on an orders status, and keep track of the orders you have previously made.
Returning Customer
I am a returning customer.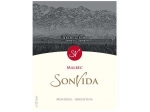 Number 4 In The Top 100 Wines!
- Wine Enthusiast Magazine (December 2014), 94 pts
SonVida Malbec 2012 is made from 95% Malbec and 5% Cabernet Sauvignon
The most challenging of years yielded a great harvest, and a magnificent wine. Frost in September, just as our Malbec was in budbreak. Then a fierce Zonda wind in early November, just as the vineyard was flowering. The result? Yields low, BUT quality high.
SonVida Malbec 2012 celebrates intense fruit, plum, blackberry, even dark chocolate notes, with the optimal acidity and smooth tannins that are so typical of the award-winning Altamira district in the Uco Valley of Mendoza. Above all, this latest Malbec from the Alegira vineyard boasts rare balance - a hint of the Old World in the best of the New World.
---
Review:
"This gorgeous Malbec gets it right. Compact, minerally aromas of blackberry are deep and a bit feral. The palate is juicy and pulses with ribald berry fruit and acidity. Blackberry flavors are beefy, salty and a touch roasted, while the finish is baked, rich and perfectly oaked. Drink through 2020. - Michael Schachner"
- Wine Enthusiast Magazine (December 2014), 94 pts + Editor's choice + #4 in the TOP 100 Wines for 2014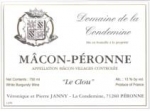 Condemine Janny Macon-Peronne Le Clou 2014 is made from 100% Chardonnay.
Sustainable agriculture: very low use of chemicals.
Very low amount of SO2 before bottling.
Wine is aged on the fine lees for a minimum of 4 months, which adds complexity and lenght to the finish.

A light golden hue, floral aromas. Intense, clean and fresh on the palate. Citrus notes, bold acidity. Excellent match to seafood with butter or cream sauces or rich blue cheeses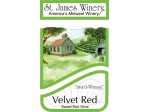 St. James Winery Velvet Red - NV is made from 100% Concord grapes from Ozark Highlands AVA.
10.5% Alcohol by Volume
12.1% Residual Sugar
Tastes and smells like ripe, just picked grapes.
Velvet Red is fruity and mouth-filling and best served chilled.

Select Wine Competition Awards:
2011 GOLD Wine & Spirits Wholesalers of America
2011 SILVER San Francisco Chronicle
2011 SILVER Pacific Rim
2011 SILVER Finger Lakes International
2011 SILVER Grand Harvest
2011 SILVER Los Angeles International
2011 SILVER Critics Challenge
2011 BRONZE Florida State Fair International
2011 BRONZE New World International
2011 BRONZE Dallas Morning News