New Customer
I am a new customer.
By creating an account at Timeless Wines you will be able to shop faster, be up to date on an orders status, and keep track of the orders you have previously made.
Returning Customer
I am a returning customer.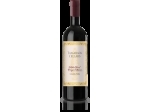 Dark and chocolatey, spiced with pretty notes of allspice and clove, this wine is round and rich, bursting with ripe berries, combined with an earthy complexity and a velvety finish.
made from 50% Cabernet Sauvignon, 25% Merlot, 25% Cabernet Franc.
The wine spent 22 months on 75% new French oak with the remaining 25% second vintage French oak. Select barrels from the best forests of Taransaud, Boutes, Quintessance, and Vicard cooperages.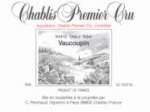 Corrine Perchaud Chablis Premier Cru Vaucoupin 2013 is 100 percent Chardonnay.
The 2011 vintage wines are expressive and vivacious. It is very aromatic and round giving very balanced wines.
A rich and generous wine with a lovely mineral structure.
Best thru 2021.
The vineyard The plots are on the Vaucoupin Chichée village. They are very steep and facing south, their average age is 40 years. The total area is 1.45 hectares. The vines are planted on soil Kimmeridgian marl consisting clay and limestone with dominant clay. Winemaking After a slight settling, the juice is put in to achieve its fermentation tank alcoholic and malolactic. It follows a long aging on lees to bring a maximum of complexity of aromas and flavors. If necessary, we make a collage to bentonite to remove proteins and a passing cold which eliminates tartar crystals. Then we perform a tangential filtration is the filtration method most friendly to wine. The wine will be bottles 16 months after harvest. 2011 Vintage The relatively high temperatures at the end of winter allowed an early bud vines in early March. With a hot, dry spring flower took place in good conditions. In July, a hailstorm located did some damage to our Fourchaume plot. July and early August, rainy and stormy brought the water needed for the vineyards. The dry and sunny weather of the second half of August brought the grapes to maturity. The harvest began on September 2 under clement skies.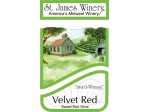 St. James Winery Velvet Red - NV is made from 100% Concord grapes from Ozark Highlands AVA.
10.5% Alcohol by Volume
12.1% Residual Sugar
Tastes and smells like ripe, just picked grapes.
Velvet Red is fruity and mouth-filling and best served chilled.

Select Wine Competition Awards:
2011 GOLD Wine & Spirits Wholesalers of America
2011 SILVER San Francisco Chronicle
2011 SILVER Pacific Rim
2011 SILVER Finger Lakes International
2011 SILVER Grand Harvest
2011 SILVER Los Angeles International
2011 SILVER Critics Challenge
2011 BRONZE Florida State Fair International
2011 BRONZE New World International
2011 BRONZE Dallas Morning News