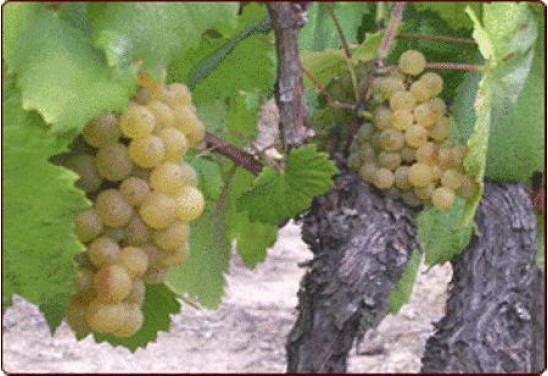 Melon is short for Melon de Bourgogne, and is a white grape variety that is grown in the Loire Valley of France. This grape is known in the Muscadet dry white wine, which is made almost entirely out of the Melon de Bourgogne variety. The grape variety is so common in the wine that the variety is often referred to as "Muscadet". Melon is also grown in North America. The grape is said to have originated in Burgundy and grown there until the variety was destroyed in the 18th century. In the winter of 1709, many vines in Loire and Nantes were destroyed. Out of the cold winter, Melon was introduced because of its ability to withstand frost. DNA research shows that Melon de Bourgogne is a mix between Gouais blanc and Pinot blanc. In the United States, using the term "Muscadet" for wines created in America is prohibited. The wines can use the term "Melon" or "Melon de Bourgogne". The grape is grown in Oregon, where it is called by the term "Melon." This variety is perfect with fresh shellfish, such as oysters, and is great while young. The wine lends citrus and salty notes and has a nice silky texture.


Dark and chocolatey, spiced with pretty notes of allspice and clove, this wine is round and rich, bursting with ripe berries, combined with an earthy complexity and a velvety finish.
made from 50% Cabernet Sauvignon, 25% Merlot, 25% Cabernet Franc.
The wine spent 22 months on 75% new French oak with the remaining 25% second vintage French oak. Select barrels from the best forests of Taransaud, Boutes, Quintessance, and Vicard cooperages.
Glorius vintage with wonderful weather conditions for normal production of low tonnages equaling delicious, balanced and succulent fruit.
Elegant with spiced cherry, blackberry and boysenberry mingling pleasingly and lingering seductively with a hint of oak, smooth chocolate and mocha on the structured tannins and fine-grained finish.
Made from peaches
9.5% Alcohol by Volume
13% Residual Sugar
Our Peach wine brings fresh from the orchard peach flavors and aromas to your glass. It's the next best thing to biting into a perfectly ripe peach.
Serve chilled with spicy cheeses or your favorite dessert.

Select Wine Competition Awards:
2011 SILVER San Francisco Chronicle
2011 GOLD Florida State Fair International
2010 BRONZE Indiana
2010 SILVER Tasters Guild International
2010 BRONZE San Francisco Chronicle