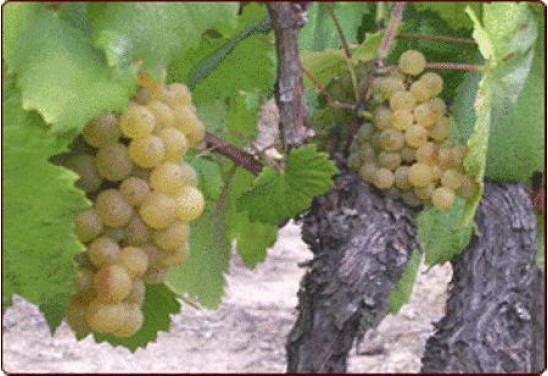 Melon is short for Melon de Bourgogne, and is a white grape variety that is grown in the Loire Valley of France. This grape is known for the Muscadet dry white wine, which is made almost entirely out of the Melon de Bourgogne variety. The grape variety is so common in the wine that the variety is often referred to as "Muscadet". Melon is also grown in North America. Melon is said to have originated in Burgundy and grown there until the variety was destroyed in the 18th century. In the winter of 1709, many vines in Loire and Nantes were destroyed. Out of the cold winter, Melon was introduced because of its ability to withstand frost. DNA research shows that Melon de Bourgogne is a mix between Gouais blanc and Pinot blanc. In the United States, using the term "Muscadet" for wines created in America is prohibited. The wines can use the term "Melon" or "Melon de Bourgogne". The grape is grown in Oregon, where it is called by the term "Melon." This variety is perfect with fresh shellfish, such as oysters, and is great while young. Melon lends citrus and salty notes and has a nice silky texture.
Showing 1 to 1 of 1 (1 Pages)
Trois Freres Muscadet 2014 has apple and pear dominate the concentrated nose.
Greener apple on the palate, good acidity. A well balanced wine. Citrus fruits (grapefruit, lime), plenty of minerality, good integrated spiciness on the back.
Showing 1 to 1 of 1 (1 Pages)


Grand Veneur Dom Chateauneuf Du Pape Blanc La Fontaine 2013 is made from 100% Roussane.
Yellow-gold color. The nose is rich in aromas of citrus fruit, tropical fruit, quince and honey, with a touch of vanilla. On the palate, the same aromas appear together with a fatness combining exotic fruit and vanilla : the wine is rich, generous and elegant, with extraordinary length. "La Fontaine" is often considerated to be one of the best Châteauneuf du Pape white, and it is by definition a superb gastronomy wine.
Best between 1 and 8 years.
---
Review:
Their top white is the 2013 Châteauneuf du Pape La Fontaine Blanc. A blend of 100% Roussanne that's aged 10% in small barrels (the majority is in stainless steel), it's a classy, balanced and medium to full-bodied beauty that gives up classic buttered citrus, white peach, melon and spice. Like the classic cuvée, this will gain a touch more richness and flesh with another 6-12 months in bottle, and drink nicely for 3-4 years at a minimum.

This estate, under the leadership of Sebastien and Christophe Jaume, continues to be one of the reference point producers for relatively modern styled Châteauneuf du Papes. In addition to their top tier efforts, the portfolio is loaded with smoking values at just about every price point. I've listed domaine wines under Domaine Grand Veneur, and the negociant wines under Alain Jaume, which I believe might also include some vineyards owned by the Jaume family as well. Regardless, the quality here is superb across the range. In addition, they've excelled in both 2012 and 2013. Wine Advocate 93 Points
Our Vouvray is stunning with its elegancy and freshness, which carry through the ripe fruity palate, marrying with hints of honey and apricots.
Average age of the vines is 15 years old.
We produce a part of this cuvee with 12 hours skin maceration and another part from directly pressed grapes
Wine was slightly filtered before bottling to ensure wine will remain stable.
An amazing Chenin Blanc,that will be Great with BBQ Pork Spareribs or a gourmet Apple pie ...
St. James Winery Velvet Red - NV is made from 100% Concord grapes from Ozark Highlands AVA.
10.5% Alcohol by Volume
12.1% Residual Sugar
Tastes and smells like ripe, just picked grapes.
Velvet Red is fruity and mouth-filling and best served chilled.

Select Wine Competition Awards:
2011 GOLD Wine & Spirits Wholesalers of America
2011 SILVER San Francisco Chronicle
2011 SILVER Pacific Rim
2011 SILVER Finger Lakes International
2011 SILVER Grand Harvest
2011 SILVER Los Angeles International
2011 SILVER Critics Challenge
2011 BRONZE Florida State Fair International
2011 BRONZE New World International
2011 BRONZE Dallas Morning News