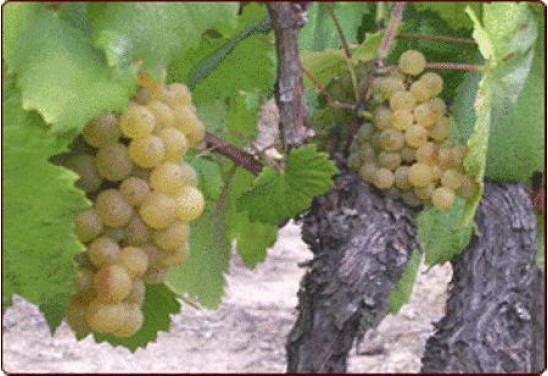 Melon is short for Melon de Bourgogne, and is a white grape variety that is grown in the Loire Valley of France. This grape is known in the Muscadet dry white wine, which is made almost entirely out of the Melon de Bourgogne variety. The grape variety is so common in the wine that the variety is often referred to as "Muscadet". Melon is also grown in North America. The grape is said to have originated in Burgundy and grown there until the variety was destroyed in the 18th century. In the winter of 1709, many vines in Loire and Nantes were destroyed. Out of the cold winter, Melon was introduced because of its ability to withstand frost. DNA research shows that Melon de Bourgogne is a mix between Gouais blanc and Pinot blanc. In the United States, using the term "Muscadet" for wines created in America is prohibited. The wines can use the term "Melon" or "Melon de Bourgogne". The grape is grown in Oregon, where it is called by the term "Melon." This variety is perfect with fresh shellfish, such as oysters, and is great while young. The wine lends citrus and salty notes and has a nice silky texture.
Trois Freres Muscadet 2013 has apple and pear dominate the concentrated nose.
Greener apple on the palate, good acidity. A well balanced wine. Citrus fruits (grapefruit, lime), plenty of minerality, good integrated spiciness on the back.