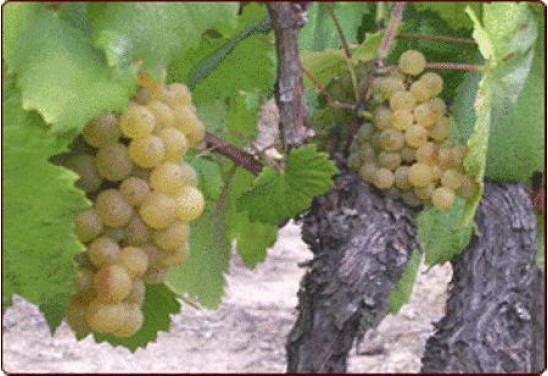 Melon is short for Melon de Bourgogne, and is a white grape variety that is grown in the Loire Valley of France. This grape is known for the Muscadet dry white wine, which is made almost entirely out of the Melon de Bourgogne variety. The grape variety is so common in the wine that the variety is often referred to as "Muscadet". Melon is also grown in North America. Melon is said to have originated in Burgundy and grown there until the variety was destroyed in the 18th century. In the winter of 1709, many vines in Loire and Nantes were destroyed. Out of the cold winter, Melon was introduced because of its ability to withstand frost. DNA research shows that Melon de Bourgogne is a mix between Gouais blanc and Pinot blanc. In the United States, using the term "Muscadet" for wines created in America is prohibited. The wines can use the term "Melon" or "Melon de Bourgogne". The grape is grown in Oregon, where it is called by the term "Melon." This variety is perfect with fresh shellfish, such as oysters, and is great while young. Melon lends citrus and salty notes and has a nice silky texture.
Showing 1 to 1 of 1 (1 Pages)
Trois Freres Muscadet 2014 has apple and pear dominate the concentrated nose.
Greener apple on the palate, good acidity. A well balanced wine. Citrus fruits (grapefruit, lime), plenty of minerality, good integrated spiciness on the back.
Showing 1 to 1 of 1 (1 Pages)


Dark and chocolatey, spiced with pretty notes of allspice and clove, this wine is round and rich, bursting with ripe berries, combined with an earthy complexity and a velvety finish.
made from 50% Cabernet Sauvignon, 25% Merlot, 25% Cabernet Franc.
The wine spent 22 months on 75% new French oak with the remaining 25% second vintage French oak. Select barrels from the best forests of Taransaud, Boutes, Quintessance, and Vicard cooperages.
---
Review:
A ripe, vibrant and refined red, with slightly gritty tannins around a plush, focused core of cherry, raspberry pie, cinnamon and clove flavors, coming together harmoniously as the finish persists. Best from 2016 through 2020. 136 cases made. Wine Spectator 93 Points
Waterstone Merlot Napa Valley 2013 is 100 percent Merlot
Sweet cherry, ripe plum, hints of vanilla and overtones of anise and aged leather appear in the aroma. On the palate, this generous wine features cherry, plum and blackberry fruit with supple tannins and a lingering finish.
Rebuli Prosecco is a noble wine with a bright straw color, made from a selection of Prosecco grapes, which highlights the flavors and perfumes of the area. It is ideal for important occasions and as an aperitif. It is also excellent with risotto and noble meat.

"Pretty silvery straw color. Orange, juicy lemon, peach aromas with a crisp, lightly effervescent, fruity-yet-dry medium body and a long, tangy mineral, starfruit and spice accented finish. Exceptional flavorful, balanced and stylish. A perfect aperitif."
World Wine Championship Award: GOLD MEDAL
Beverage Testing Institute - May 9th 2011 - 91 points (Exceptional)


"Toasty, which makes this a little more champagnelike and perhaps more familiar to consumers. Nice balance; quite refreshing."
- Washington Post (Dec 08) - VERY GOOD

"This wine is so much fun that it seems vaguely illegal. Lightly floral in aroma, it shows fresh but restrained fruit flavors. The effervescence is abundant but soft, yet the wine remains structural and refreshing thanks to crisp acidity. Clearly the top pop for parties." - Washington Post (2006)

"Very pale straw. Very fine mousse. Nice elegant bead. Aromas of fresh bread dough, pear, touch of marzipan. Light attack. Semi-dry. Licorice note on palate. Soft, light. Simple, light pear flavors."
- International Wine Review (Dec 08)
This large Spumante estate with just over 100 acres of vines produces high-quality Prosecco. The non-vintage Rebuli Prosecco di Valdobbiadene Extra Dry is light-bodied and flowery with plenty of white peach, orange and pineapple notes in its exotic aromatics and flavors. It is off-dry, but most consumers would consider it to be a dry sparkling wine. Drink it over the next 12-18 months.-Robert Parker 90 Points