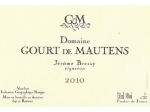 Blend: 70% Grenache Noir and 30% various: Carignan, Mourvèdre, Syrah, Counoise, Cinsault, Vaccarèse and Terret Noir
Vinification: after the harvest, the grapes are carried in 20 kg cases; selection of every single cluster using a sorting table; Destemming.; Slow extraction in a 10-20 day maceration; All the grapes are blended together to produce a single wine, a single Cuvée.
Yield: 14 Hl/hectare
No addition of yeasts or tartar; No fining, no filtration.
Ageing: 12 months in demi-muids (300 liter barrels) and foudre (large barrels); then 18 months in concrete vats. A single bottling, at one time.
It is loaded with chocolate, black raspberries, and kirsch, intermixed with dusty, loamy soil notes, pepper, and the telltale chocolate that comes from the old vine Grenache that bakes in the sun in this high elevation appellation. This is a beauty, slightly rustic but enormously endowed.
---
Review:
Deeper and richer than the '11, the 2010 IGP Vaucluse knocks it out of the park with tons of black cherry, raspberry, ground pepper, violets and hints of smoke. Full-bodied, fat, fleshy and unctuously textured, this is a beast of a wine that stays balanced and thrillingly drinkable. Give it another year or three and drink bottles through 2030.-Wine Advocate 95 Points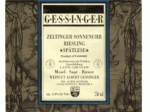 Gessinger Zeltinger Sonnenuhr Riesling Spatlese is a late harvest wine produced from grapes picked around 7 days after regular harvest time. The wine is rich, intense, full flavored. Pear, honeysuckle, apple and great acidity that make it a balanced and elegant wine.
---
Timeless Notes:
Let's have a quick recall of German Riesling labeling. There are four main tiers of sweetness that I usually stick too. There are others, but I find these four to be the most enjoyable: The Kabinett, Spatlese, Auslese, & of course, the famed Trockenbeerenauslese.
Today, we are talking about a semi-sweet to sweet which is the Spatlese from the Gessinger family estate. It comes from a fully ripe grape and is the lightest of the late harvest Rieslings. These wines drink very young or within a few years of age. In this case, the wine is on the sweet side, and I have to admit I am not one that usually reaches for the sweeter wines. This one, however, is nearly impossible to put down after trying.
The majority of Rieslings worth mentioning are grown along the Mosel river. The bank of the Mosel is made up of different types of blue or red slate. The soil type we are dealing with today is the best of the best, Devonian slate. This very porous slate combined with the clay soil give the wines grown in the region a fine mineral taste as well as excellent balance.

The Gessinger family moved from Italy to the Mosel region of Zelting in the 1500's. In 1680 their winery was founded and in 1820 they became one of the first family owned vineyards in the middle Mosel. In 1899, they joined an exclusive group of winery owners dedicated to the Mosel called, "The Bernkastel Ring". They have been members of this elite group for over 100 years. The Ring is composed of the finest producers in Germany which sell to connoisseurs all over the world. Because of the Ring's reputation, for years Gessinger's wines were only sold at their September auction. This made it impossible for anyone outside of the "click" to get a hold of these top Rieslings.

I spent a week in Bernkastel, a small hamlet in the middle Mosel, a true story book town. Each morning looking out over the town, I would almost expect to see medieval peasants totting their grapes down from the river banks. On my final day, I had a chance to catch up with the Gessinger family. We tasted their fabulous wines in a small underground tavern. Even with the smoke spilling out of the flu from the chimney, I was still able to smell the aroma of apricot, pear, and some granny apples rising from the glass. The wine is well balanced, rich, flavored and intense. It has good acidity to help balance out the late harvest grapes. Elegant and food friendly.

This is a wine I would use to start a meal off and it works just as well to finish one up. It will drink well for the next few years... no rush in consuming this one.

With only 2000 cases produced total, this includes their Spatlese and Auslese, there is not much to go around!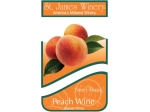 Made from peaches
9.5% Alcohol by Volume
13% Residual Sugar
Our Peach wine brings fresh from the orchard peach flavors and aromas to your glass. It's the next best thing to biting into a perfectly ripe peach.
Serve chilled with spicy cheeses or your favorite dessert.

Select Wine Competition Awards:
2011 SILVER San Francisco Chronicle
2011 GOLD Florida State Fair International
2010 BRONZE Indiana
2010 SILVER Tasters Guild International
2010 BRONZE San Francisco Chronicle